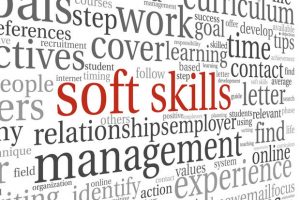 I have come to value more highly soft skills like interpersonal communications, teamwork, positive attitudes, strong work ethic, and emotional intelligence. Of course, we know that it's critical to have the technical know-how for performing our jobs; however, with all the focus these days on a changing world of artificial intelligence, robotics, and data analytics, soft skills are even more essential for personal and organizational success. Soft skills can determine whether a problem will get peacefully resolved and/or a particular outcome will be successfully achieved.
Recently, my work with clients has demonstrated the importance of honing good listening skills, asking clarifying questions, managing one's emotions, voicing unspoken expectations, and believing the best – rather than the worst – about a person because false assumptions were made based on a lack of information.
Can you relate?
What skills do you need to improve in order to become a more effective employee? When was the last time members of your staff team assessed their soft skills and renewed their commitment to growing in them? Developing these intangible yet very important qualities can be transformational in building stronger relationships and achieving success for your organization.
Carolyn Lugbill, CAE, MAM is a consultant that brings over 25 years of association expertise to the Tecker International team. She offers strategic planning, global growth strategies, program assessment, Board and leadership development for association clients. You may contact her at [email protected].